Crock Pot Mongolian Beef is the most delicious crock pot dinner recipe I have made in a long time.
Tired of heading out to a resturant when you are craving your favorite Mongolian Beef dish?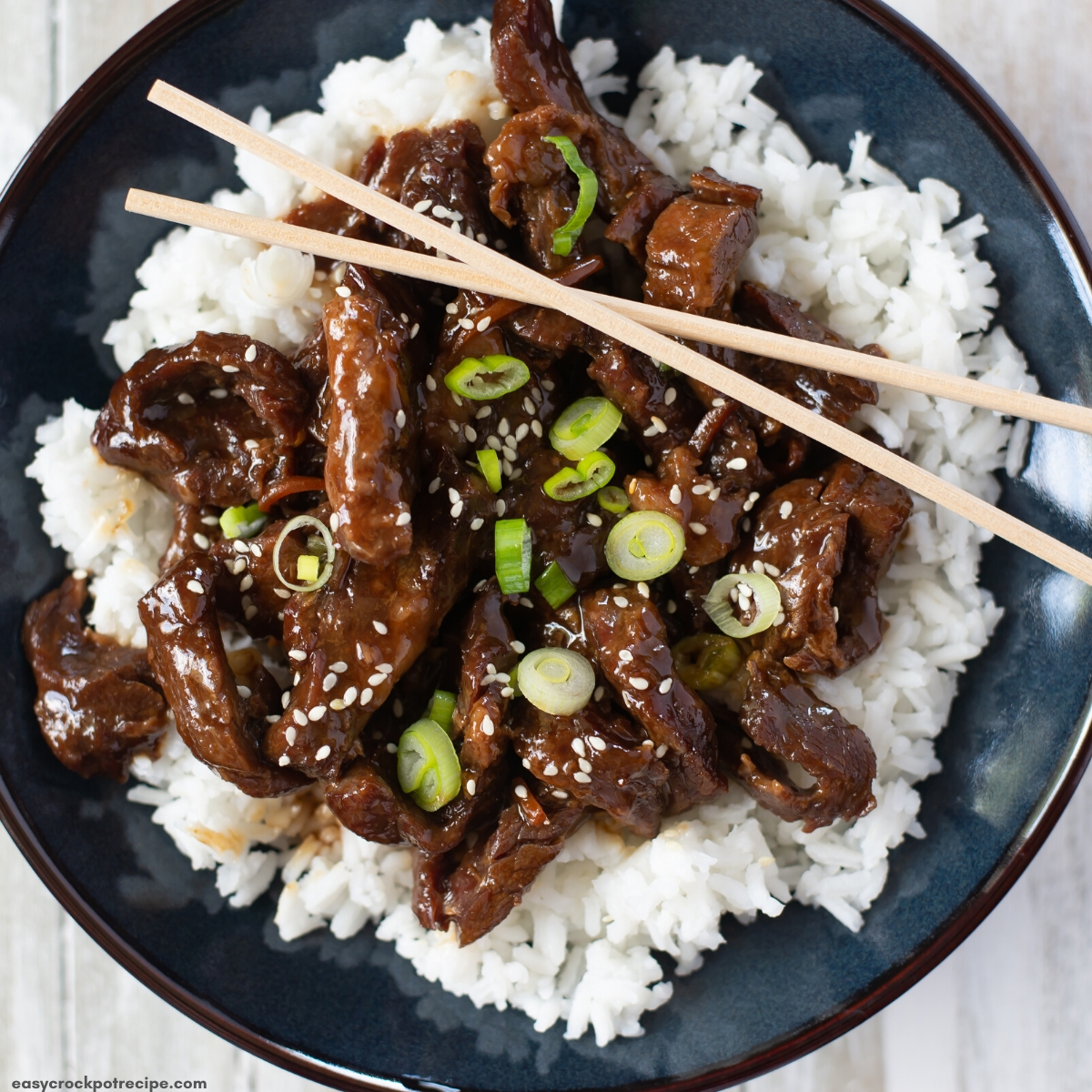 Crock Pot Beef Recipes
A slow cooker can turn any cut of beef into a mouth watering tender and delicious meal in just a few hours.
Crock Pot Beef Mongolia is made using flank or skirt steak. Two of the tenderist cuts of beef you can buy. As long as you slice the fiborous cut of beef correctly.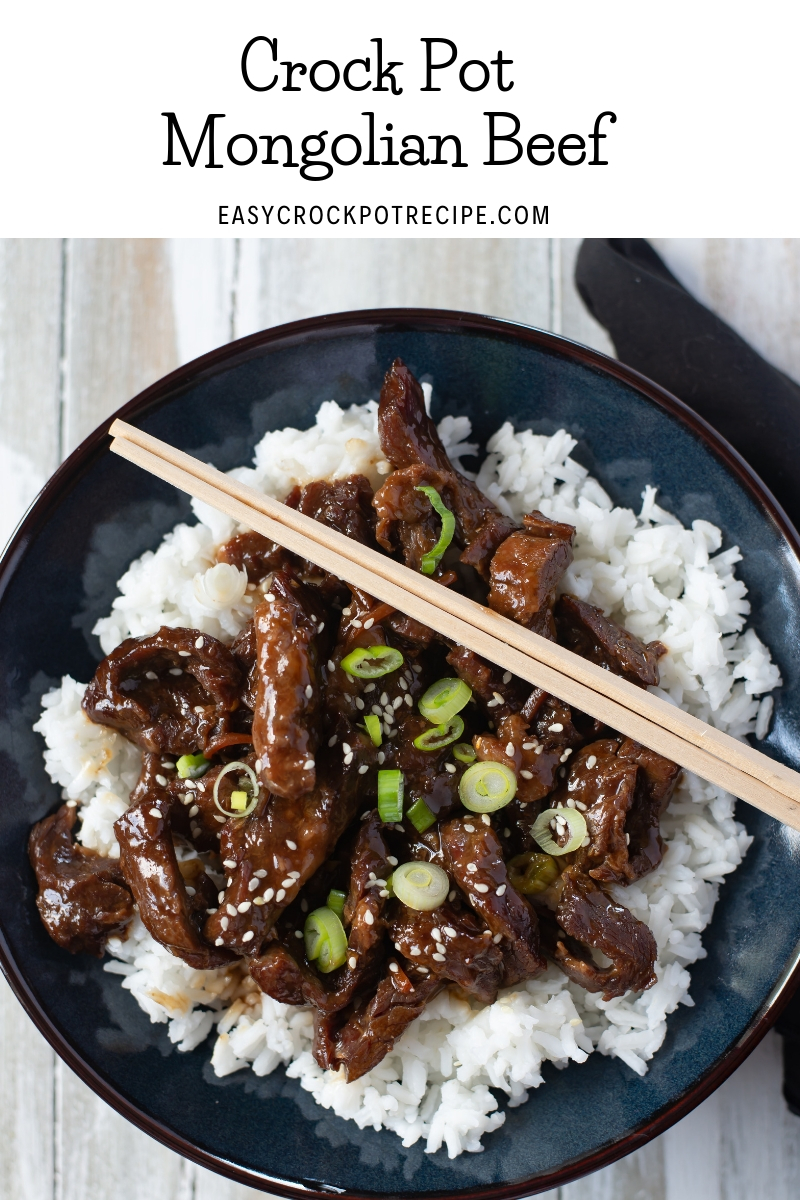 How To Cut Flank Steak
The way you slice a flank steak is very important. Flank steak should always be sliced across the grain before cooking. Watch the short video below that will show you how to slice flank steak.
Crock Pot Mongolian Beef Recipe
This Crock Pot Mongolian Beef recipe is easy to make and tastes just as good as if you went out to a resturant. Mongolian Beef is made simple easy ingredients.
The main ingredients you'll need to make Crock Pot Mongolian Beef is a tender cut of beef, minced garlic, minced ginger root, brown sugar, a bit of water and julianned carrots.
Cornstarch is used as the thickener. As it slow cooks the sauce will thicken. Serve the Mongoligian Beef over cooked white rice. If you adventurous pull out a pair of chop sticks and dig in.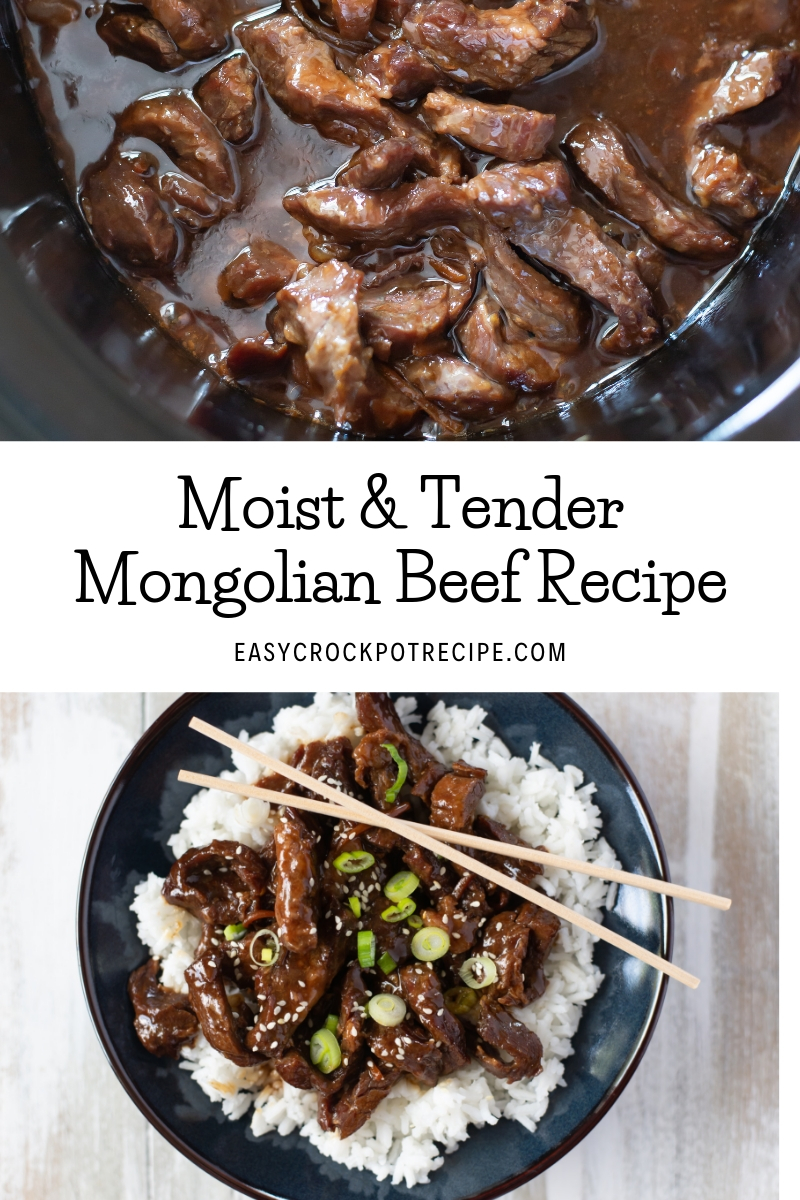 The best part is that when you walk into the door and the aroma hits you in the face your mouth is going to start watering.
Crock Pot Main Dish Recipes
I love cooking in my crock pot. I'll use a slow cooker to cook any type of meal be it a crock pot main dish, crock pot appetizer or even a crock pot dessert recipe.
Crock Pot Meals
Crock Pot Meals are such time savers. I love throwing the ingredients for a meal in my crock pot, turning it on and knowing in 4 to 8 hours I will have an entire meal to serve to my family.
Crock Pot Meals are perfect for large families or small families.
If you are slow cooking for two you can make almost any of my crock pot recipes and freeze the leftovers to eat during the month.
I love using my crock pot for meal planning. I will slow cook a soup recipe and put most of the leftovers in freezer containers. Then I have a home cooked meal for lunch or dinner any time I don't feel like cooking.
If you are interested and would like to see how I pack up my leftover crock pot soup for freezer meals leave me a comment.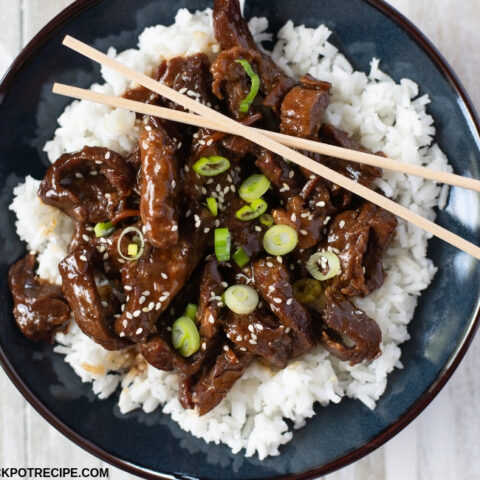 Crock Pot Mongolian Beef Recipe
Total Time:
4 hours
15 minutes
Crock Pot Mongolian Beef recipe
Enjoy your favorite Asian take out dish at home. Mongolian Beef cooks up melt in your mouth tender when you slow cook it in the crock pot.
Ingredients
2 1/2 lbs beef flank steak
2 tablespoons of vegetable oil
3 tablespoons cornstarch
1 tablespoon minced fresh garlic
2 teaspoons minced fresh ginger
1 cup soy sauce
1 cup water
1 cup dark brown sugar
1/2 cup julienned carrot (optional)
sliced green onion (optional)
Instructions
Carefully slice the flank steak into very thin slices cutting against the grain with a very sharp knife.
Place the sliced flank steak into the bottom of a 7-quart crock pot.
Add the vegetable oil to the crock pot and toss with the sliced flank steak until the meat is coated evenly with oil.
Add the minced garlic and the minced ginger root to the crock pot.
Next, add the cornstarch to the crock pot and toss the meat to coat. This step will prevent the cornstarch from clumping.
Add the dark brown sugar, soy sauce and water to the crock pot.
Mix to combine until the brown sugar is no longer lumpy.
Add the julienned carrots if using. Cover and cook on high for 3 to 4 hours or low for 6 to 8 hours.
Serve over cooked long grain white rice.


Nutrition Information:
Yield:

6
Serving Size:

1
Amount Per Serving:
Calories:

564
Total Fat:

20g
Saturated Fat:

7g
Trans Fat:

0g
Unsaturated Fat:

11g
Cholesterol:

149mg
Sodium:

2459mg
Carbohydrates:

37g
Fiber:

1g
Sugar:

30g
Protein:

56g
Subscribe Here
Subscribe to the Easy Crock Pot Recipe newsletter and grab your free 10 Budget Friendly Crock Pot Ground Beef Recipes eBook