Crock Pot Chicken Alfredo Recipe
Easy Crock Pot Chicken Alfredo recipe is rich and creamy. This chicken alfredo recipe is so rich and creamy because of the cream cheese and heavy cream in the recipe.
It is easy to make and tastes amazing.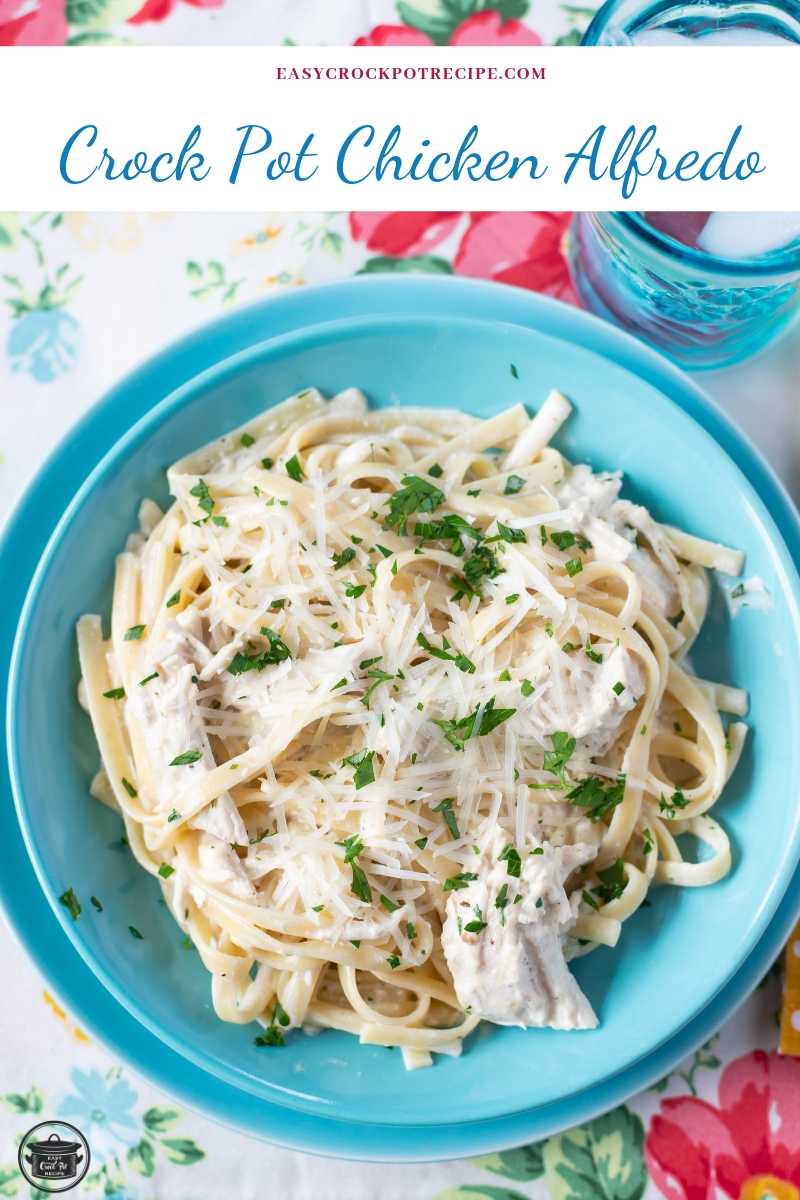 This Chicken Alfredo recipe is one of my favorite crock pot recipes.
It is perfect for lunch or dinner. It is an easy crock pot meal that almost makes itself.
When you are craving a creamy pasta dish this is one crock pot pasta recipe that you will make over and over because it hits the spot. Is it a comfort food?
Yes, cheesy pasta dishes are the best comfort food.
Crock Pot Chicken Alfredo for 2
The ingredients in this Crock Pot Chicken Alfredo recipe can be divided in half if you are only feeding one or two people.
Crock Pot Chicken Alfredo will feed about 6 people, depending on the serving size.
You can use 8 oz of pasta instead of the 16 oz called for in the recipe and make an even creamier Crock Pot Chicken Alfredo.
Check out the crock pot Chicken Alfredo recipe video below so you can see how easy it is to make this Crock Pot Chicken Alfredo recipe.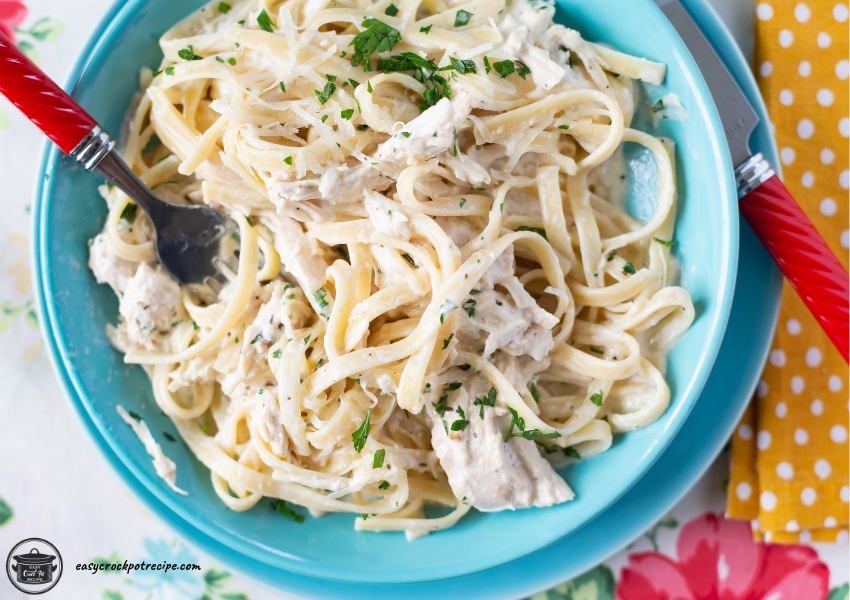 How To Make Crock Pot Chicken Alfredo with cream cheese
To make the creamiest Chicken Alfredo this recipe includes cream cheese and heavy cream.
Cream cheese and heavy cream makes the thickest and creamiest alfredo sauce.
Real Parmesan cheese adds the authentic flavors of a rich and creamy chicken alfredo.
I used fettucine noodle for this alfredo recipe but you could used any type of pasta you have on hand.
Want to make Crock Pot Chicken Broccoli Alfredo instead you can add a couple of cups of thawed and drained frozen broccoli florets to the crock pot for the last 60 minutes of cooking.
If you'd like to use fresh broccoli instead of frozen you can add the broccoli florets along with the other ingredients when you start cooking this recipe.
Creamy Crock Pot Recipes
I love creamy crock pot recipes like this easy Crock Pot Chicken Alfredo Tortellini recipe made with frozen cheese tortellini.
Crock Pot Corn Ham Chowder is another creamy crock pot recipe I love.
Perfect for those chilly days or raining summer evenings you want to curl up in a chair with a book.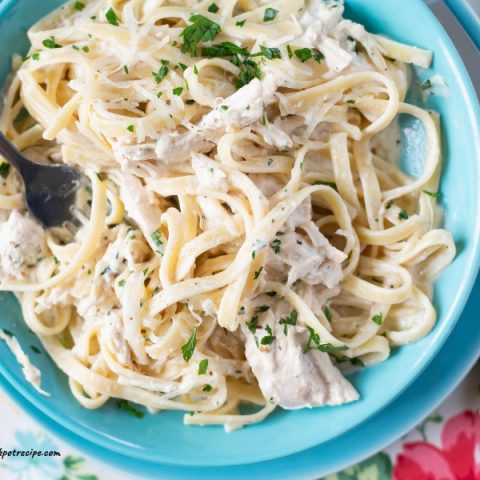 Crock Pot Chicken Alfredo Recipe
Total Time:
4 hours
10 minutes
The best Crock Pot Chicken Alfredo is made with cream cheese, heavy cream and real Parmasen cheese. The slow cooked chicken is moist and tender. Mix cooked pasta into the cream Alfredo sauce and serve with crusty bread and a salad.
Ingredients
4 boneless skinless chicken breast halves (2 lbs. boneless chicken)
1/2 teaspoon salt
1/2 teaspoon ground black pepper
1 tablespoon minced garlic
1 teaspoon Italian seasoning
8 oz. cream cheese, softened
4 tablespoons unsalted butter, cut into cubes
1 cup of chicken broth
2 cups heavy cream
2 cups finely shredded fresh Parmesan cheese, plus more for garnish
fresh parsley, minced
16 oz. cooked Fettuccine noodles (follow the directions on the box)
Instructions
Trim the chicken breast of all fat. Place in a single layer in the crock pot.
Add the salt, ground pepper and Italian seasoning to the crock pot.
Cube the cream cheese and butter then add to the crock pot. Add the heavy whipping cream at this time also.
Measure the chicken broth and add to the crock pot.
Cover the crock pot and cook on high for 2 and a half hours or low 3 to 4 hours. Or until the thickest piece of chicken meat has reached an internal temperature of 165 F degrees.
Once the chicken is cooked through use two forks to shred the meat in the crock pot.
Cook the pasta if you have not already done so. Drain well.
Add the cooked pasta, shredded Parmesan cheese and the minced parsley to the crock pot and mix well to combine.
Serve with a sprinkle of more Parmesan cheese and fresh parsley over each serving.
Nutrition Information:
Yield:

6
Serving Size:

1
Amount Per Serving:
Calories:

862
Total Fat:

62g
Saturated Fat:

37g
Trans Fat:

1g
Unsaturated Fat:

20g
Cholesterol:

246mg
Sodium:

1136mg
Carbohydrates:

33g
Fiber:

1g
Sugar:

5g
Protein:

43g
Subscribe Here
Subscribe to the Easy Crock Pot Recipe newsletter and grab your free 10 Budget Friendly Crock Pot Ground Beef Recipes eBook